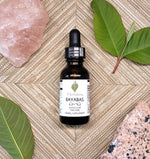 Many scientists are studying what our Ancestors have known all along--the healing properties of Guava Leaves, captured in this bottle of Bayabas Tincture. Lovingly harvested, organically grown guava leaves are from our very own urban farm, steeped in a base of coconut lambanog (a distilled liquor made from coconut palm sap) sourced from the Philippines. 
Not all guava trees are created equally.  Our trees are grown with great care, fertilized with homemade compost, lending to its high quality leaves and potency.  The leaves are hand-harvested at their peak season, cleaned, and processed in ceremony to create this beautiful guava leaf extract. 
Coupled with the metaphysical properties of the coconut tree in connecting to one's Higher Self, its curative components are concentrated and administered under the tongue to receive both the physical and spiritual benefits immediately.
Guava Leaves are high in phenolic compounds and antioxidants, a plant of great healing properties that include being anti-cancer, anti-fungal, anti-inflammatory, anti-bacterial, anti-viral, and an array of other protective benefits for the body.
Our Bayabas Tincture supports a healthy digestive system, benefits the immune system, aids a healthy inflammation response, and promotes overall well-being.
 The Bayabas Tincture can be used in the following ways:
Ingest 1-2 dropperfuls under the tongue and hold for one minute before swallowing.

As a topical, place a few drops on skin eczema/irritations.

Put 2-3 dropperfuls of tincture in hot water to make tea.  This is great to bring with you on the go especially if you can't make guava leaf tea readily.

Use as an Ancestral libation for ritual or as offering to Mother Earth.

 

Ingest 1-2 dropperfuls under the tongue before meditation and Ancestral journey.

Use for anointing the chakras. 

To incorporate the healing spirit of Mama Guava, place 1-2 dropperfuls in your water or food.

As an energy clearing spray, place 2-3 dropperfuls in a spray bottle filled with spring water.  Refrigerate remaining water or pour into Mother Earth as offering to clear any negative energies in the land.  
Consult your physician before use of any herbal supplement. May have contraindications. Contains alcohol.
THESE STATEMENTS HAVE NOT BEEN EVALUATED BY THE FOOD AND DRUG ADMINISTRATION. THIS PRODUCT IS NOT INTENDED TO DIAGNOSE, TREAT, CURE, OR PREVENT ANY DISEASE.
Copyright © 2021 by Lyn Pacificar All rights reserved.