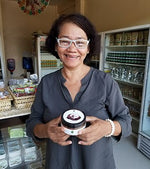 Meet Luz Neri, an embodiment of the native earth goddess spirit and a visionary agripreneur hailing from the enchanting landscapes of Midsayap, Cotabato, nestled within the vibrant heart of Mindanao, Philippines.
Luz's remarkable journey as a creator of herbal wonders commenced in 2010, having survived cancer through the use of herbs– armed with nothing but a modest sum of a hundred pesos, a determined spirit, and the steadfast companionship of a mortar and pestle. These humble beginnings marked the genesis of her venture into the realm of crafting herbal products, a path she would later traverse with unwavering dedication and a profound connection to the Earth.

The remarkable transformation that followed led to the birth of Manna's Alternatives Herbal Products, an enterprise that she nurtured from a fledgling concept to a thriving reality. Luz's unwavering commitment to her vision has flourished into a business that stands tall today, harmonizing sustainable growth with the ethos of fair-trade cooperation. Together with a collective of devoted farmers cultivating certified organic crops, Luz has woven a tapestry of success and resilience that resonates far beyond her local community.

Luz Neri's luminous journey received a resplendent accolade in 2014 when she was bestowed with the prestigious TOFA (The Outstanding Farmer of the Philippines) National Gold Award. This was just one among the constellation of honors that have recognized her as a vanguard of farmer entrepreneurship and a luminous inspiration to all.

Among the myriad treasures nurtured by Luz's nurturing hands, Herbalaria is particularly blessed to be graced by her creative touch. She crafts a symphony of nature's finest offerings, from the robust essence of Sambong to the richness of Guyabano, the soothing notes of Lagundi, the mystique of Mangosteen, the vitality of Moringa, and the golden warmth of Turmeric. These botanical treasures are not just ingredients; they carry the ancient energy of the land from which they emerged, a sacred connection that infuses Herbalaria's products with unparalleled resonance.

Luz Neri's indomitable spirit blazes a trail of pioneering brilliance, illuminating the path for aspiring agripreneurs and entrepreneurs alike. She stands as an emblem of strength, resilience, and an unbreakable bond with the Earth that fuels her every endeavor. As we celebrate Luz's journey, we also acknowledge her role as a beacon for women of color in the entrepreneurial farming landscape.

As we revel in the legacy of Luz Neri, we invite you to share your thoughts and insights. What other healing botanicals would you like to see adorning the canvas of our products? Your voice guides us as we continue to honor the spirit of the Earth and those who work in harmony with it.
 Copyright © 2018 by Herbalaria. All rights reserved.