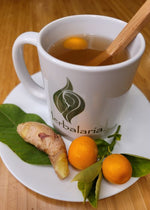 My grandma swore by drinking ginger tea every morning.  As a matter of fact, salabat or ginger tea is the general "go-to" Filipino herbal drink when it comes to sore throat, colds, flu, indigestion, nausea, and as an herbal tonic to bring warmth and balance to the body.  
With the Covid pandemic, there is a rise in interest for natural remedies to help boost the immune system and stave off viruses.  Well, look no further than to one of the most accessible, powerful and effective herbs out there-- the ginger. 
It's origins are traced back to southeast Asia, but you can find this plant ally in just about every kind of market and in many cultural traditions.
Ginger is called the following names in each dialect:
Tagalog- Luya
Ilocano- Laya
Bisaya- Luy-a
Pampango: Agat
Ginger is widely used in Filipino culture.  It is in our foods and healing medicine. 
It is in our soups like tinolang manok (chicken soup), and main dishes like paksiw na isda (fish cooked with ginger, vinegar, veggies, and garlic).  In healing traditions, ginger can be used with coconut oil to massage and help ease pain.  Chewing raw ginger pieces and swallowing the juice helps get rid of a sore throat.  Salabat, a well-known remedy that is anti-viral, anti-bacterial, and lot of other beneftis, is one that should be part of your culinary and medicinal kits.
Salabat is made by boiling sliced ginger in water.  After it has reached a desired strength in color and spiciness, which is also dependent on how much ginger you use, you may drink as-is or add sweetener.
My recipe is a variation of salabat because it includes calamansi and guava leaves to enhance its healing properties.  The concoction of citrus, guava, with the heat of ginger is balanced and perfect for any time of day.
Calamansi is a great source of vitamin C and is used to alleviate coughs.  Adding calamansi to the salabat gives it an uplifting and refreshing energy.  Bayabas leaves are naturally astringent and help tonify the body of any imbalances, and is especially effective in the digestive system dealing with diarrhea or vomiting.  Consequently, guava leaves coupled with ginger add a drying and heating effect to any cold wet energies.
The Recipe
What you will need:
4 cups Water
1 oz. Ginger (By weight)
1-2 Calamansi 
1 Guava Leaf
Honey (Optional, though I recommend adding honey to because of its soothing properties.)
Directions:
1) Bring 4 cups of water and ginger to a boil.
2) Once boiling, add guava leaf and lower fire to a simmer. 
3) Continue simmering for 20-25 minutes.
4) Remove from heat.  Strain into a cup.
5) Slice your calamansi fruit in half and squeeze the juice (separating the seeds by using a strainer or your hands) into the salabat.  Once you have removed the seeds and juiced it, drop the whole rind into the hot tea.
6) Add honey to taste.  Stir and enjoy!
Here is a video on how to make salabat tea.  Please like, subscribe, and click on the bell to get notifications of our newest videos.  Wishing you good health and mabuhay!
Consult your physician before use of any herbal supplement. May have contraindications. 
THESE STATEMENTS HAVE NOT BEEN EVALUATED BY THE FOOD AND DRUG ADMINISTRATION. THIS PRODUCT IS NOT INTENDED TO DIAGNOSE, TREAT, CURE, OR PREVENT ANY DISEASE.
Copyright © 2021 by Lyn Pacificar All rights reserved.