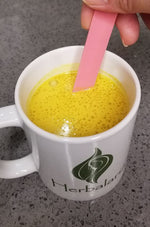 Golden Milk is an Ayurvedic beverage called Haldi Doodh, which literally means "turmeric milk" (Haldi=Turmeric Doodh=Milk). 
Originating from India, this warming drink is anti-inflammatory, gut-healing, comforting, and super delicious.  Each ingredient contributes to your overall well-being, including mental health.  Since stress is one of the top reasons for inflammation occurring in the body, it is important to learn how to incorporate good medicines like Golden Milk into your daily routine.  
This vegan version of Golden Milk calls for turmeric, ginger, cinnamon, pepper, and coconut.  Although other spices like cardamom, cloves, or ashwagandha may be added to the mix. Ghee is also a wonderful addition (Ghee is clarified butter). Other milks such as almond or cashew are alternatives to dairy.
But before we make anything, let's get to what it means to connect to the plant allies that will be part of your self-care and self-healing regimen. 
Connecting with plant allies is a practice where you build a relationship with the plant and learn about its qualities, whether it's to heal or not. The plant becomes a part of your journey into discovering more about your body and spirit. 
To begin opening up this relationship, let's learn and appreciate what each plant ally means in Golden Milk.
Physical and Magical Benefits of each ingredient:
Turmeric
Curcuma Longa
Physical= Key active component: Curcumin
Anti-inflammatory, antioxidant, anti-cancer, immunity booster, good for digestion, liver and gallbladder tonifier, antiseptic. 
Magical= Purification, associated with the solar plexus chakra, increases fertility, protection, good health.
Ginger
Zingiber Officinale
Physical= Key active components: Volatile oils and phenolic compounds 
Warming and drying properties, expectorant, anti-nausea, strengthens lungs and kidneys, pain and congestion relief.  
Magical= Love, increase money, success.
Black Pepper
Piper Nigrum
Physical= Key active component: Piperine.  Piperine works to help the body uptake curcumin and enhance its healing properties.
Cell protectant, antioxidant, stimulates digestive enzymes, anti-cancer, lower cholesterol, and pain relief.
Magical= Protection and exorcism.
Cinnamon
- Any variety (Chinese
Cinnamomum Cassia
, Saigon
Cinnamomum Loureiroi
, Ceylon
Cinnamomum Verum
) 
Physical= Key active components: Cinnamaldehyde
Anti-fungal, anti-viral, anti-microbial, anti-bacterial, anti-inflammatory, improves vision, enhances circulation, lowers blood sugar.
Magical= Money attractant, enhances psychic powers, protection.
Coconut Milk/Oil
Cocos
Nucifera
Physical= Key active components: Fatty acids/Short and medium chain triglycerides
Strengthens immune system, anti-fungal, anti-inflammatory, anti-viral, boosts electrolytes, lends to healthy skin and hair.
Magical= Purification and protection.
Almond Milk
Prunus Dulcis
Physical= Rich source of magnesium, Vit. E, and calcium. Low in calories and a good dairy-free option.
Magical= Money, wisdom, success in business ventures.
Now let's get to making Golden Milk!
Lyn's Recipe for Golden Milk
Ingredients:
1 cinnamon stick (snap in half)
2-inch piece of sliced unpeeled organic ginger, equivalent to 9 grams (or 1 ½ teaspoon of ground ginger)
½ teaspoon of whole black peppercorns
1 tablespoon of turmeric powder
1 14-ounce can of coconut milk
1 cup unsweetened almond milk (or any other non-dairy milk of your choice). This is optional especially if you are allergic to nuts, please feel free to leave this ingredient out.
1 teaspoon of coconut oil (add more if you like)
2 cups of water
Agave syrup, honey, maple syrup or any other sweetener of your choice
The Process:
Boil cinnamon, ginger, and black peppercorns in water.

After boiling for about 5 mins, lower heat to a simmer. 
Add the turmeric powder and whisk in well. 
Add coconut milk and almond milk. Mix and heat through on low for another 2 mins.  
Remove from heat.  You may ladle into a strainer and into your cup so that the milk can continue steeping in the herbs and spices. 
Add your choice of sweetener to taste. 
Top it off with a little (or a lot of) coconut oil and mix.
Drink while warm, and give thanks to each plant ally that is working to heal you and bring more magic into your life.  Enjoy!
If you liked this recipe and what you've learned about the magic of Golden Milk, or made any modifications, LEAVE A COMMENT! I would love to hear about your experience in connecting with the plant medicine and how it made you feel after drinking this amazing beverage! Salamat!
Sources:
Cunningham, Scott. Cunningham's Encyclopedia of Magical Herbs. Second ed., Llewellyn Publications, 2004.
Weiss, Gaea and Shandor. Growing & Using the Healing Herbs. Wings Books,1992.
"5-Minute Vegan Golden Milk." Minimalist Baker, 10 Apr. 2017, minimalistbaker.com/5-minute-vegan-golden-milk/.
"Ginger." Gaia Herbs. gaiaherbs.com/blogs/herbs/ginger 
Heid, Markham. "Is Black Pepper Healthy? Here's What the Science Says." Time, Time, 16 Jan. 2019, time.com/5503520/black-pepper-health-benefits/.
Sobel, Ashley. "What is Saigon Cinnamon? Benefits and Comparison to Other Types." Healthline, Healthline, 26 Jul. 2019, https://www.healthline.com/nutrition/saigon-cinnamon
"Ceylon Cinnamon." https://www.webmd.com/vitamins/ai/ingredientmono-330/ceylon-cinnamon
Disclaimer: These statements have not been evaluated by the Food and Drug Administration and are not intended to diagnose, treat, cure, or prevent any disease. They are intended as general reference not a replacement for professional health advice. Consult with your physician or qualified health care practitioner.
Copyright © 2020 by Lyn Pacificar All rights reserved.