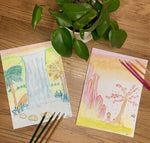 Earlier this year, I was a few days shy from flying home to the Philippines for the first time.  I was so thrilled to finally attend our long awaited family reunion in Antipolo.  I had my heart set on deepening the knowledge of my family history and ancestral roots.  Packed and ready to go, the unthinkable happened. California announced its first shut down due to the rising pandemic of COVID-19.  In addition to trying to digest what was happening across the globe, I also felt heartbreak, but little did I know that my journey in ancestral healing was still unfolding, even within the walls of my own home. 
Shamanic Journeys & Ancestral Healing through Art
I've been graciously connected with Lyn for some time now, and felt my intuition guiding me even closer to Herbalaria.  I signed up for my first shamanic journey art class and was pretty new to the practice of shamanic journeys altogether. I came into the virtual class with an open heart and mind.  Lyn is a powerful soul full of light, a compassionate healer and a wonderful teacher.  Lyn taught us how to prepare for rituals, introduced us to traditions of shamanism and held a safe container for us through our journey.
As she guided us with the sound of her drum, I melted into a deep meditative state and remained open to messages from my ancestors-- these came through in feelings, emotions and vivid visualizations.
As we awoke from our meditative state, I was filled with emotion and insight and Lyn asked us to draw (or write) what we saw. 
I'm no professional artist, but with my watercolor pencils in hand, I tried to capture every detail; a flowing waterfall hugged by the tropical landscape on Mount Banahaw, a place I haven't physically been to before, but always come back to in my dreams and meditations.
Creating the artwork in class helps me remember what I experience and integrate the lessons in my daily life.
I continued to attend each class Lyn hosted and hone in the skills we were taught. Every journey is truly one-of-a-kind. Another beautiful realization is the strong collective experience with our journey mates. Although each person experiences their own unique journey, there is always so much healing happening in community as we share our stories with one another. 
Spiritual Consultation & Mediumship
In between the classes, I began to see Lyn for 1:1 spiritual consultations. These sessions are fluid and full of unconditional love. Working with Lyn has strengthened my relationships with my ancestors and helped me remember my true nature. Through her mentorship, I've been able to rediscover insights from my past lives, while gaining clarity and building momentum for actionable steps to stay on my most aligned path. Lyn's presence calls in so many ancestors. During one session, Lyn bridged conversations with my lola, who passed away ten years ago. When we realized it was her, my heart fluttered and tears of joy rolled down my face. It truly felt like the three of us were sitting down for coffee and pan de sal talking about creative ideas, and I was able soothe so much grief I hadn't processed for years. 
While no spiritual journey is linear, Lyn's teachings, paired with the Herbalaria products, have equipped me with the tools to stand tall and protected in my journey with healing and decolonization. The scent of guava leaves often waft through my room as I smudge my space, and the Diwa & Kamulikasan elixirs are part of my daily evening rituals. I've been able to identify and reframe patterns rooted in intergenerational trauma, deeply connect with my inner knowing, strengthen my relationship with ancestors and stay true to my path. If you are feeling called to work with her, listen to your intuition. You are in the right place!
About Kimiko
Kimiko De Pedro (she/her) is a creator and co-host of EVALOO, a podcast that creates space for real talk to learn, grow, heal and evolve together. Kimiko is a Pinay who is passionate about helping others cultivate mindfulness, and reconnect with their true nature. 
Prior to her current endeavors, Kimiko was one of the co-founders of Halo Halo Collective, a Bay Area based organization that brought Filipinx creatives together to connect, collaborate and amplify local Filipinx-owned businesses. 
Website: kimikomarie.com
Instagram: @kimiko.marie
Twitter: @kindlykimiko
EVALOO
Available on all platforms podcasts are available
Instagram: @evaloo.social